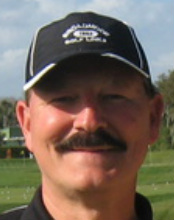 THE LOGO BALL TRAVELER
My name is Gus Gutoskey and I am The Logo Ball Traveler. I live in Fort Wayne, IN and play most of my local golf at Coyote Creek Golf Club (
http://www.ccgconline.com/
), the club where Arnold Palmer cashed his first check as a Professional Golfer at the Fort Wayne Open in 1955. After nearly 40 years of work in Information Technology for two Fortune 100 corporations, my full time job is now traveling to play golf and then writing about it. I've played golf since the mid-1960's and have been traveling to play golf since 1989. For the longest time, my hobby has been playing golf courses that are new to me. I have now played over 1000
courses in 48 states. To document my travels, I obtain a logo golf ball from each course. My display of logo golf balls is the document of my life. This site is the result of 20-plus years of collecting logo golf balls--for just the courses I've played.
The game of golf has allowed me to see our country and meet a diverse group of people in all U.S. geographies. This site also allows me to share what I have learned about travel golf with anybody who is interested. I've become adept at planning and executing long golf trips as this site will show.
Here is a very good example of what I do from Fort Wayne's local newspaper on August 31, 2016:
http://www.news-sentinel.com/news/local/Local-traveler-hits-up-golf-courses-on-Route-66-in-his--66-Mustang
Have a question? I'll do my best to answer.
---
WHAT THIS SITE IS ABOUT
The LogoBallTraveler site is the result of my desire to impart some of the knowledge I've gained as a traveling golfer. I will mainly write about my golf travels but occasionally, I will wax nostalgic. Like most golfers with sites such as this, I am passionate about the game of golf. I like just about everything about it. In addition to my need to play the game, I like watching it, reading about it, and discussing it. I like fiddling with my swing, adjusting my equipment, and utilizing technology aids. I like the natural beauty of the golf landscape and the creativity of the architects. And I like nothing more than traveling to play golf.
THE LOGO GOLF BALL IS THE VEHICLE
I am always looking to play courses that are new to me. And when I do, I obtain a logo golf ball. It wasn't until 1994 that I began documenting my golf travels with logo golf balls. When I began obtaining a logo ball from each new course I played, it occurred to me that I had some catching up to do. I needed to obtain logo balls for the 70-some courses I had played before I decided to use logo balls to document my golf travels. Since I had been logging my rounds for a long time, I knew all of the courses I needed to contact to bring my collection up-to-date. I visited all the courses in the vicinity of my home I had once played. When visiting my parents' home in Wickliffe, Ohio, I stopped by each course I had played as a youngster. For the courses that weren't in close proximity, I simply made phone calls. I made many tiny credit card purchases which included the cost of shipping and handling. And slowly, small packages appeared in my mailbox. I was persistent and eventually, my collection was nearly up-to-date.
WHAT?! YOU DON'T HAVE LOGO BALLS!
Amazingly, not all golf courses sell logo golf balls. I am still on the hunt for logo balls from twenty-five golf courses (four of which no longer exist). I have been successful in the past in badgering golf courses to begin carrying logo balls. A yearly phone call to these courses with a pronouncement that I will not play a course that does not sell logo golf balls sometimes works. When I make a tee time at a new (to me) course, the first question I ask is "do you sell logo golf balls?" No logo ball, no round for me.
MY BUCKET LIST
If anything, I am definitely driven to meet goals in the game of golf. Here is my current thinking or my "Bucket List."
Play every course that has ever been on Golf Magazine's "Top 100 You Can Play" List. There have been 213 courses on the list since 1996. I've now played 189.​
Play every course on Golf Digest's "America's 100 Greatest Public Courses" List.​ I've played 78 of these courses.
Play golf in every state. 48 states down, Alaska and Hawaii to go!​
Shoot my age. I need a few more years to accomplish this.​
Carry my bag 72 holes on my 72nd birthday. I need to stay in shape! A couple of years ago, I walked 60 holes on my 60th birthday.​
Shoot under par for 18 holes. I am a mental midget. You know how it goes...every time you are on the cusp of a career best, your head takes over.​
Play golf in the British Isles.
This one is my favorite: Play 730 different golf courses in one calendar year, covering every state. Yep, that's an average of two courses a day. Each of these courses has to be courses I've never played before. There is a serious expense associated with this item. I need some sponsors. Any takers?